Spotlight : Nazarena Perez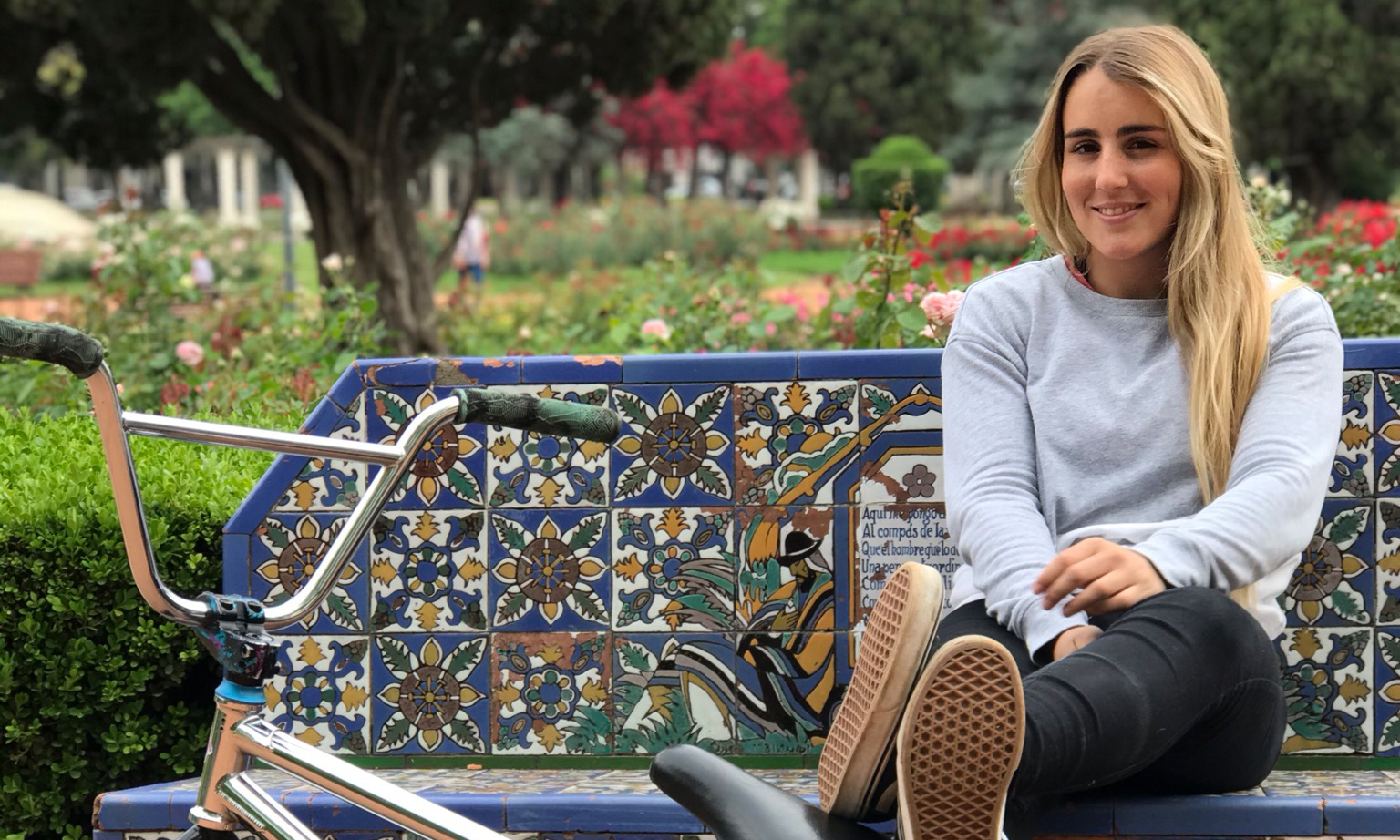 Hello 2021! We're starting this year off with an interview with 21-year-old Argentinian BMX Freestyle rider, Nazarena Perez! Check it out below! Learn about Naz, how she got started, her ambitions and how she's doing with COVID. We even chatted a bit about how the Argentinian economy is doing too.
Where are you from?
I am from Rio Cuarto, Córdoba, although I currently live in the city of Rosario.
Soy de Rio Cuarto, Córdoba, aunque actualmente vivo en la ciudad de Rosario.
When and how did you discover BMX?
I have some blurry memories …
Extreme sports always caught my attention, especially MX and BMX.
I remember one day at the beginning of 2014 having found at my house, an old BMX that I had been given a long time ago for a birthday. From what was seen in the streets of my city at that time, that style of bicycle, with 4-piece handlebars, elongated seat, etc. was no longer used. Then it occurred to me to change some parts, which costs a lot of money, therefore it was done little by little. Meanwhile, I would go out from time to time to pedal and be introduced to the new world of BMX. At the end of 2014, I already had the bicycle assembled as I had imagined, a "daf kt" frame, a 2-piece "daf" handlebar, a small seat, and wider tires. Not long after, I started going to the skatepark and it was my first step in freestyle.
Tengo algunos recuerdos borrosos…
Siempre me llamaron la atención los deportes extremos, especialmente el mx y el bmx.
Me acuerdo un dia a principios de 2014 haber encontrado en mi casa mi bicicleta vieja rodado 20 que me habían regalado hacia mucho para un cumpleaños. Por lo que se veía en las calles y en las plazas de mi ciudad en ese momento ya no se usaba mas ese estilo de bicicleta con manubrio de 4 piezas, mazas a bolitas, asiento alargado, etc. Entonces se me ocurrió cambiarle algunas partes, lo que costaba mucho dinero, por lo tanto fue muy de a poco, mientras tanto salía de vez en cuando a pedalear e ir introduciéndome en el nuevo mundo de la bicicleta chiquita. A fines de 2014 ya tenia la bicicleta armada como me había imaginado, un cuadro "daf kt" un manubrio "daf" 2 piezas , un asiento chiquito y unas cubiertas mas anchas. Poco tiempo después empece a ir al parque de la ciudad y fueron mis primeros pasos en el Freestyle.
For someone who may not know you, how would you describe your riding style?
I really like to flow, use all the ramps, do transfers. I have several tricks that I like to do all the time like barspins, T-bogs and can-cans. On the street side of the park, I like 360 ​​° flats and crank flips. I'd like to improve my jumping height and speed to polish up the style I'm aiming for a bit.
Me gusta mucho fluir, usar todas las rampas, hacer transfers . Tengo varios trucos que me gusta hacer todo el tiempo como barspin, tbog o can-can. En el parque también meto algunas pruebas de street como 360° de plano o cranckflip. Me gustaría mejorar mi altura en los saltos y la velocidad para pulir un poco el estilo al cual apunto.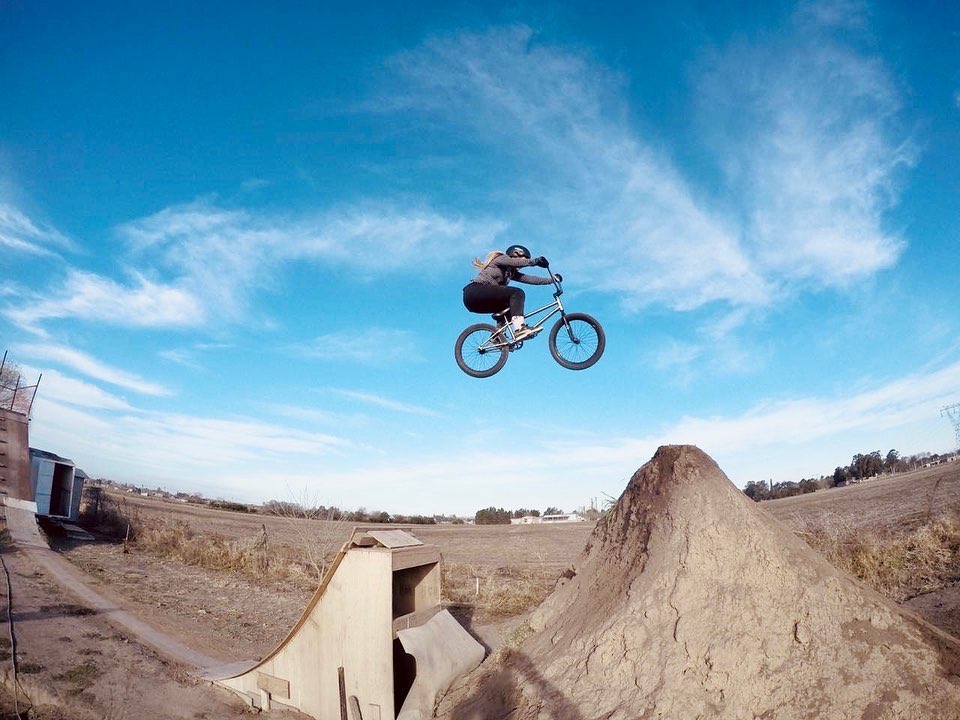 Who are the riders that influence your riding style?
I feel motivated seeing Perris Benegas, Natalya Diehm, Angie Marino, Anahí Valentina Lizsurley, and Queensaray Villegas for different reasons. One of them is that I see that when they propose something they achieve it, they all have unique styles, good tricks, flow, and height. I also really like the spots where they practice and the energy they transmit in person and through social networks.
Me siento motivada viendo a Perris Benegas, Natalya Diehm, Angie Marino , Anahí Valentina Lizsurley y Queensaray Villegas por distintas razones. Una de ellas es que veo que cuando se proponen algo lo logran, todas tienen estilos únicos, buenos trucos, flow y altura. Me gusta mucho también los spots donde practican y la energía que transmiten en persona y por las redes sociales.
I see you have a good mix of dirt and concrete parks in your area, could you list some of your favorite places to ride?
Yes, one of my favorite places to ride a bike is "San Nicolás de Los Arroyos", Buenos Aires, which is a huge park with many ramps including a bowl, 3 jump boxes, and a super fun street section, the ramps are made well, it is a comfortable and pleasant place to learn and do tricks on the concrete. Another of my favorite places to ride is "Helltrack" in Rosario. It is my local spot, it is the oldest wooden park in the whole country. All the ramps are connected to each other, it is a very nice covered place to flow and train. It has a jump box, spine, wallride, and a removable resi.
Another cement park that I really like is the San Luis Bowl. The ramps are very large and it is a special place to catch flow and speed.
There are several more parks in the country that I have visited that I highly recommend, speaking of dirt (dirt ramps) ,I really liked Dirt World in Neuquén, Embalse, and Manifiesto in Rio Tercero.
Si, uno de mis lugares favoritos para andar en bicicleta son "San Nicolás de los Arroyos ", Buenos Aires, que es un parque inmenso con muchas rampas entre ellas un bowl, 3 jumpbox y una parte de street super divertida, las curvas están bien hechas y es un lugar cómodo y agradable para andar y hacer trucos en el cemento. Otro de mis lugares favoritos para montar es "Helltrack" en Rosario, mi spot local, es el parque mas viejo de madera de todo el país, todas las rampas tienen coneccion entre si, es un lugar techado muy lindo para fluir y entrenar . Cuenta con jumpbox, spine, wallride y un resi desmontable.
Otro parque de cemento que me gusta mucho es el Bowl de San Luis, es gigante, las rampas son muy grandes y es un lugar especial para agarrar flow y velocidad.
Hay varios parques mas en el país que conocí que recomiendo mucho, hablando de dirts (rampas de tierra) me gustó mucho Dirt World en Neuquén, Embalse y Manifiesto en Rio Tercero.
I was looking at your feed and noticed that you have no brakes, except for one photo! Did you try it and you didn't like it? Do you think there is any advantage to not having brakes?
Honestly, the first few years when I started riding BMX, I hadn't seen anyone using brakes. So I just didn't take it into account for a long time. Three years ago I started seeing professional riders with brakes on their bikes, that's where I learned about the many benefits of having brakes. Also, at that time I rode big ramps like FISE, realizing at that moment the importance of brakes at those parks. After those events I have brakes on my bike, however, I was so used to riding without them that I found it uncomfortable to do some tricks, so I decided to take it off. Despite that, I do not rule out the possibility of using brakes again at some point.
Sinceramente los primeros años cuando empece a andar en bmx no había visto a nadie que use frenos, por lo tanto simplemente no lo tuve en cuenta por mucho tiempo. Hace 3 años atrás empecé a ver a riders profesionales con freno en sus bicicletas, ahí me entere de muchos de los beneficios de tener un freno. También en ese tiempo conocí rampas grandes como por ejemplo las del Fise, dándome cuenta en ese momento la importancia del freno para usar esos parques. Después de esos acontecimientos le puse un freno a mi bicicleta, sin embargo estaba tan acostumbrada a montar sin freno que me resulto incomodo para hacer algunas maniobras, por lo tanto a los días ya lo había sacado. A pesar de eso no descarto la posibilidad de usarlo en algún momento.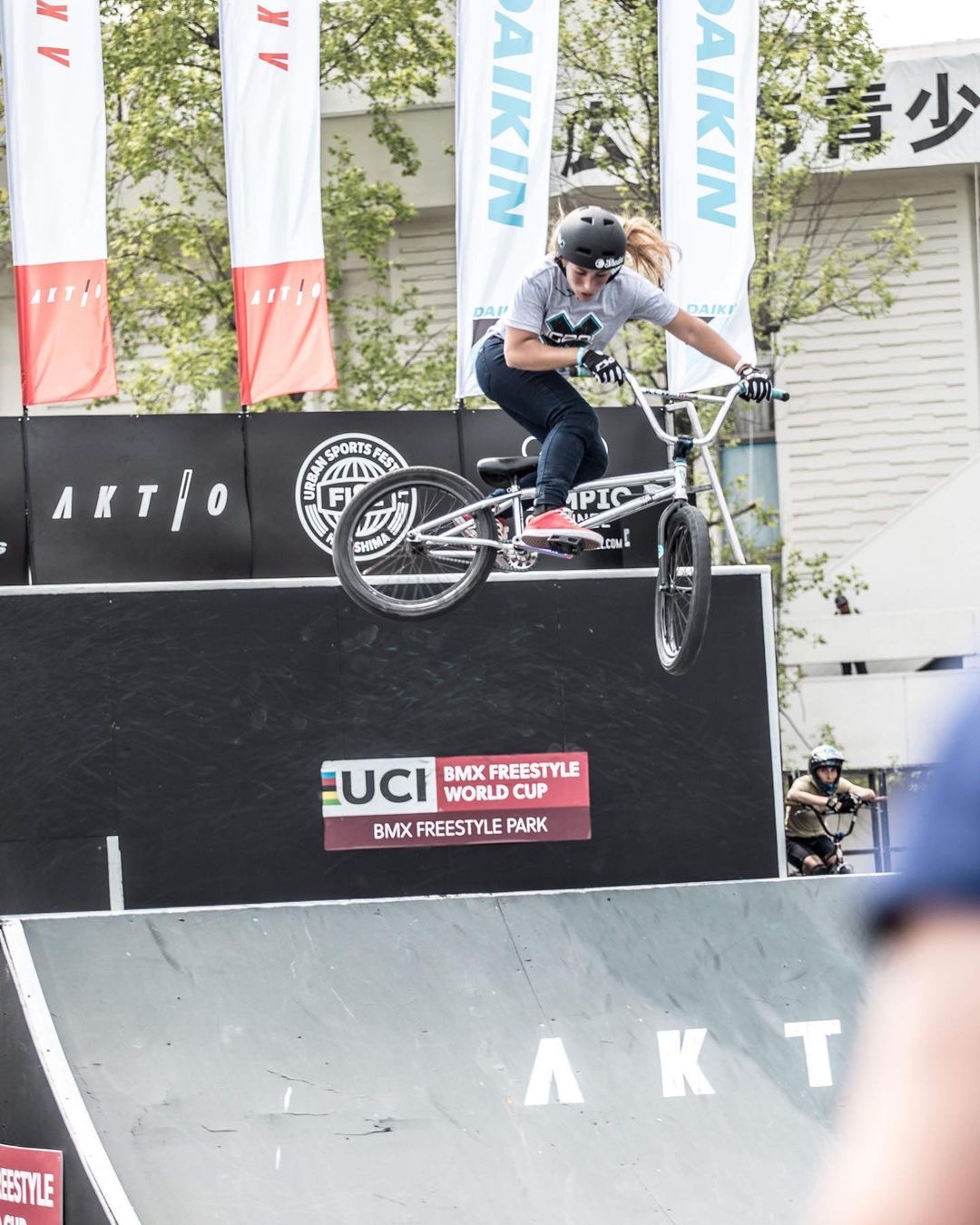 Do you do anything special to prepare for the competition?
I am one of those people who enjoys competition a lot. I see it as a unique space to demonstrate the effort and work with my bike.
My planning process consists of many steps. I have to organize well in advance. For me, it is difficult to buy a plane ticket and travel, it is very expensive and that is where my process begins; work more hours than normal, ask my sponsors for help, and look for different options to get the money. Once I complete this step I can start to enjoy and focus on the competition, I train longer than normal, I focus on doing tricks many times to have a better style, I improved my diet, prepare my physique to the maximum, and try to leave my bicycle in the best possible condition.
Before a competition, I relax my mind, I also meditate and think positively. I focus on everything I know and try to find the best possible strategies to achieve good results. Nerves are never lacking. Inside the track, I try to relax and give my best at every moment, I think of my family and everything that makes me good, it motivates me.
Soy de esas personas que difruta mucho de la competencia, lo veo como un espacio único para demostrar el esfuerzo y el trabajo con la bicicleta.
Mi proceso de planificación de una carrera consta de muchos pasos, debo organizar con bastante anticipación. Para mi es difícil comprar un boleto de avión y viajar, cuesta muy caro y ahí es donde empieza mi proceso; trabajar mas horas de lo normal, pedir ayuda a mis patrocinadores y buscar distintas opciones para conseguir el dinero, una vez que complete este paso puedo empezar a disfrutar y focalizarme en la competencia, entreno mas tiempo de lo normal, me enfoco en hacer muchas veces los trucos para tener un estilo mas prolijo, mejoro mi alimentación, preparo mi físico al máximo e intento dejar mi bicicleta en las mejores condiciones posibles.
Antes de una competencia relajo la mente, también medito y pienso de manera positiva. Me enfoco en todo lo que sé e intento buscar las mejores estrategias posibles para lograr buenos resultados. Nunca faltan los nervios. Adentro de la pista me esfuerzo por relajarme y dar lo mejor de mi en cada momento, pienso en mi familia y en todo lo que me hace bien, me sirve de motivación.
Where do you want to take the BMX?
From the moment I competed for the first time, I realized how much I like doing it and how important self-improvement is for me, I always focused on improving myself and breaking the fears that prevent me from progressing in the different stages. My goals are to take BMX to as many places as possible, participate and achieve good results in important competitions, overcome fears regarding ramps and tricks, be able to have my own BMX track, grow BMX for the future generations, among others… so many.
As for the Olympic games, I can say that I would love to be able to participate. It would be an unforgettable experience and a dream come true, but I do not see it as easy, there is still a lot of work for me to match the level of riding.
Desde el momento que competi por primera vez me di cuenta de cuanto me gusta hacerlo y lo importante que es para mi la autosuperacion, siempre me focalice en superarme a mi misma y en romper los miedos que me impiden progresar en las diferentes etapas. Mis objetivos son llevar el bmx a la mayor cantidad de lugares posible, participar y lograr buenos resultados en competencias importantes, superar miedos en cuanto a rampas y trucos, poder tener una pista de bmx propia, hacer crecer el bmx para futuras generaciones,entre otros tantos .
En cuanto a los juegos olímpicos puedo decir que me encantaría poder participar, seria una experiencia inolvidable y un sueño hecho realidad, aunque no lo veo fácil, falta mucho trabajo para igualar el nivel de afuera.
Could you share a story from one of your trips that is most memorable?
I couldn't choose a single memorable story as I never cease to be amazed when I think of all the places I take my BMX to. The first time I traveled alone was in 2018 and I had no fear. I can say that the first experiences were unique because everything was very new for me, I didn't even know how to take a plane alone. I learned a lot and quickly. The first competitions in other countries were like a game, I didn't think I could be at the level of the other girls, within myself I only thought about participating and having the experience. Those experiences motivated me to see that I had had better results than I expected. So shortly after I started to take it seriously. I changed my way of thinking and I was able to improve myself at each event that I participated in. I learned a lot of new things quickly like adapting to a competitive environment, to new tracks, etc.
When I returned home from my first trip to Europe, Argentina received me with open arms, and with new opportunities with sponsors, projects, interviews, notes on the radio, on television, and I was already thinking about future trips for 2019. That's how it was, I could travel to compete again, already with a different mentality, I was focused on generating good results and not disappointing my country.  I felt that a new era had begun and that I had to continue training to be able to go far. Unfortunately, the same could not be said for 2020, but soon I suppose that everything will return to normal and all the chaos in the world will normalize.
No podría elegir una sola historia memorable ya que no dejo de sorprenderme cuando pienso en todos los lugares a los que me llevo el bmx, la primera vez que viaje sola fue en el año 2018 y no tenía ningún miedo de lo que podría encontrarme en el exterior. Puedo decir que las primeras experiencias fueron únicas porque todo era muy nuevo para mí, no sabía ni como tomarme un avión sola. Aprendí mucho y de golpe. Las primeras competencias en otros países fueron como un juego, no pensaba poder estar al nivel de las demás chicas , dentro de mi pensaba solamente en participar y tener la experiencia. Esas experiencias me sirvieron de motivación al ver que había tenido mejores resultados de los que esperaba, por lo que poco tiempo después empecé a tomármelo enserio, cambié mi forma de pensar y pude superarme a mi misma en cada evento que participaba. Aprendí muchas cosas nuevas de golpe, adaptarme a un ambiente de competencia, a pistas nuevas, etc.
Cuando volvi de mi primer viaje a Europa, Argentina me recibió con los brazos abiertos, y con nuevas oportunidades como patrocinadores, proyectos, entrevistas, notas en la radio, en televisión, y yo ya pensaba en futuros viajes para 2019… así fue, pude viajar a competir nuevamente, ya con otra mentalidad, estaba enfocada en generar buenos resultados y no defraudar a mi país, sentía que había empezado una nueva era y que tenia que seguir entrenando para poder llegar lejos. Lamentablemente no se pudo pensar lo mismo este 2020, pero pronto supongo que todo va a volver a la normalidad y se va a normalizar todo el caos en el mundo.
Do you workout and, if you do, what do you do and what does your diet consist of?
I went through several stages regarding the extra exercise of BMX, the last one was the one that served me the most.
Just before the pandemic broke out, in February, I was in the prime of training. I would combine 4-5 weekly BMX sessions along with 2 days of swimming on the remaining days of the week. Swimming gave me agility and good physical condition on the bike. The pools have not yet opened, and just recently they opened the track with reduced hours. I plan to return to that rhythm as soon as it is possible for me.
I am currently working on a dirt track (it still has a long way to go for this list) that requires a lot of physical effort, I took it as strength training haha. I come back very tired and with little energy to do other activities. I also try to ride 2 or 3 times a week, and I try to use my bike as a means of transportation to exercise. Lately, that is my routine until the new dirt track is finished, later I will have more time to train.
As for the diet, I try to include all kinds of foods so that my body has all the necessary nutrients to function well.
Pase por varias etapas en cuanto al ejercicio extra del bmx, la última fue la que mas me sirvió.
Justo antes de que se desatara la pandemia, en febrero, estaba en el mejor momento de entrenamiento. Combinaba 4 o 5 sesiones de bmx semanales junto con 2 días de natación en los días restantes de la semana. La natación me dio agilidad y buen estado físico arriba de la bicicleta. Todavía no abrieron las piletas, y recién hace poco abrieron la pista con horario reducido, tengo planeado volver a ese ritmo cuando se pueda.
Actualmente estoy trabajando en una pista de dirt (todavía le falta bastante para que este lista) eso requiere mucho esfuerzo físico, lo tomé como un entrenamiento de fuerza jaja. Vuelvo muy cansada y con poca energía para hacer otras actividades. Además intento poder montar 2 o 3 veces por semana, e intento usar la bicicleta como medio de transporte para hacer ejercicio. Últimamente esa es mi rutina hasta que se termine la pista nueva de dirt, mas adelante voy a tener mas tiempo para entrenar.
En cuanto a la dieta intento incluir toda clase de alimentos para que mi cuerpo tenga todos los nutrientes necesarios para funcionar bien.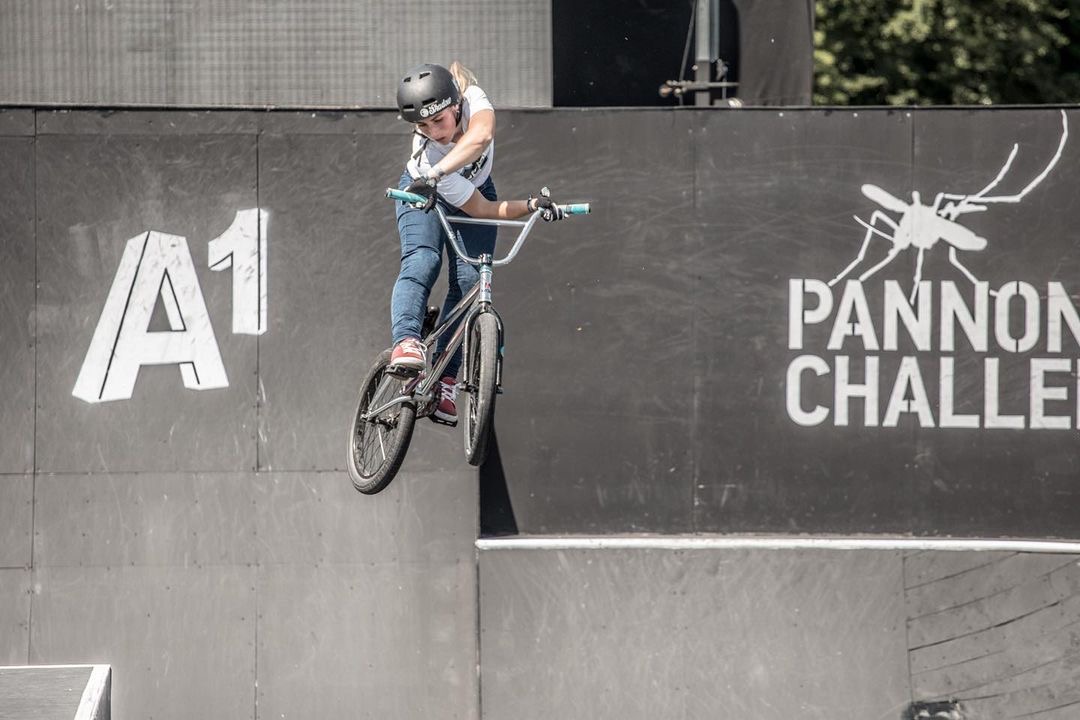 What has been the most difficult trick for you to learn?
For now, the tailwhip has taken me almost a year and to this day I still have trouble doing it. I had a lot of hard shots trying. It gives me satisfaction to do it for all it costs me.
Por ahora el tailwhip, me llevo prácticamente un año y hasta el día de hoy me cuesta hacerlo. Tuve muchos golpes fuertes intentándoló. Me da satisfacción hacerlo por todo lo que me costó.
How have you been mentally since COVID and how are things today in Argentina?
Unfortunately, what I am going to answer is not positive, although I am grateful that it has not affected the health of any loved one.
Things in Argentina are going from bad to worse, the country's economy fell a lot and almost everyone was affected to a lesser or greater extent. The currency was extremely devalued. When the year began, 1 dollar was equal to 60 Argentine pesos, currently, 1 dollar is equal to 190 Argentine pesos, and it increases day by day, therefore the value of all things increases, except the salaries of workers. Many international brands left the country, large companies filed for bankruptcy, many people lost their jobs and fell into poverty.
As for BMX, COVID also affected me. I was about 6 months in without being able to train for different reasons, very recently we returned to training with limited hours and days. It was very difficult this year. Now you can see things more clearly and hope that everything will be okay soon.
No es positivo lo que voy a responder lamentablemente L aunque a pesar de todo agradezco que no haya afectado la salud de ningún ser querido.
Las cosas en Argentina va de mal en peor, cayó mucho la economía del país y casi todas las personas estuvieron afectadas en menor o mayor proporción. La moneda se devaluó extremadamente. Cuando comenzó el año 1 dólar era igual a 60 pesos argentinos, actualmente 1 dólar es igual a 190 pesos argentinos, y aumenta día a día, por lo tanto se incrementa el valor de todas las cosas, excepto los sueldos de los trabajadores que no para de bajar. Muchas marcas internacionales abandonaron el país , grandes empresas presentaron quiebra, mucha gente perdió su trabajo y cayo en la pobreza.
En cuanto al bmx también me afectó. Estuve aproximadamente 6 meses sin poder entrenar por distintas razones, muy recientemente volvimos a los entrenamientos con horarios y días limitados. Fue muy difícil este año. Ahora se pueden ver las cosas con mas claridad y volver a tener esperanzas de que pronto va a estar todo bien.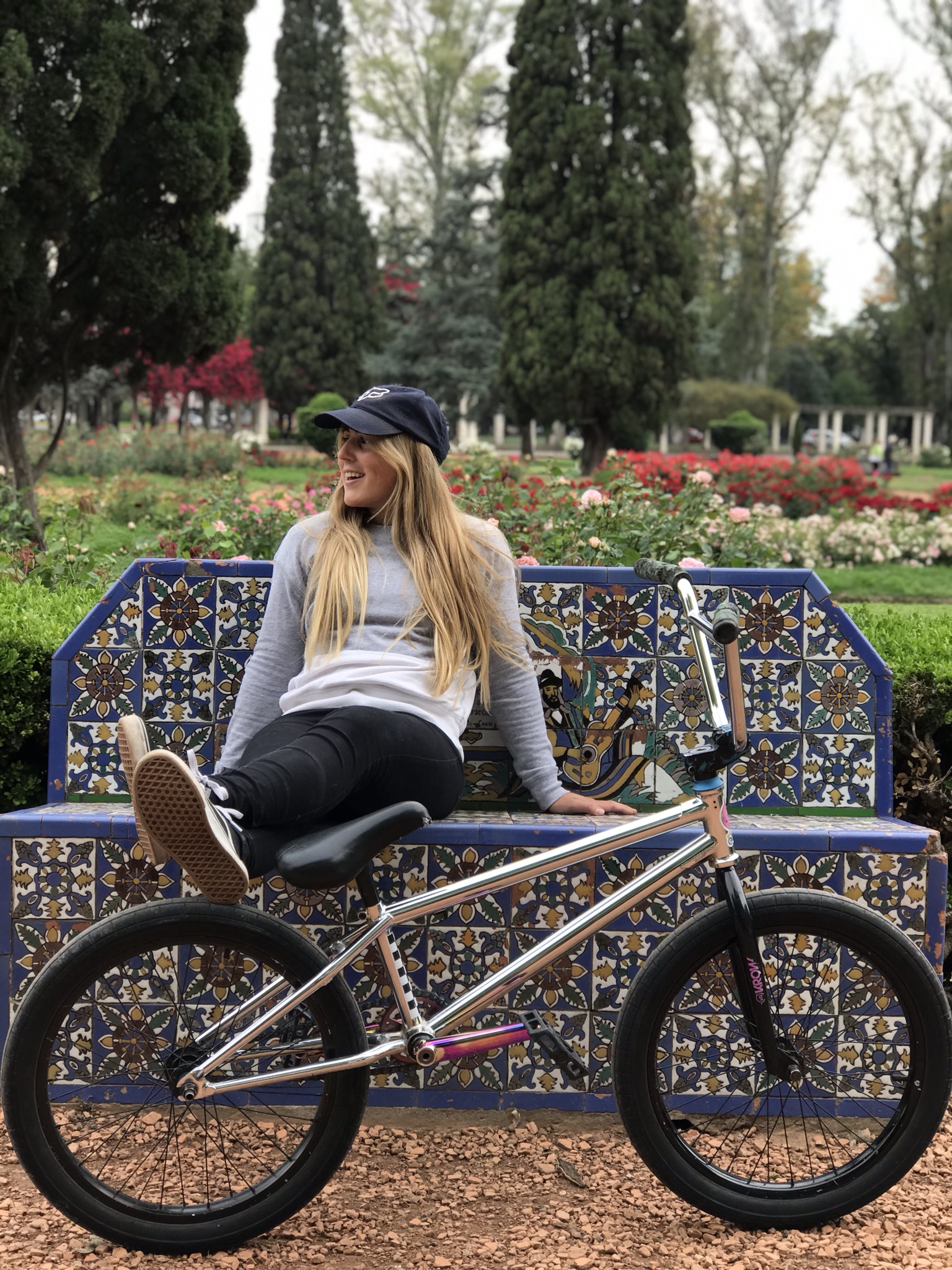 BIKE CHECK
FRAME: KROW "MALIGNO TWINS" 20.3
FORK: COLONY "ALEX HIAM" SIGNATURE
BARS: KROW "LEO TEDESCO" 8.8
STEM: SHADOW TOP LOAD
GRIPS: IZHAVEL
SEATPOST & SEAT: KROW INTEGRATED POST
PEDALS: BSD REED STARCK
CRANKS: KROW TORNASOLADAS
SPROCKET: KINK BEDLAM 28T
FRONT TIRE: DEMOLITION "MOMENTUM" 2.20
FRONT WHEEL: KROW THIN AXLE
REAR TIRE: DEMOLITION "MOMENTUM" 2.20
REAR WHEEL: PRIMO "REMIX" CASSETTE