Spotlight: Anahi Valentina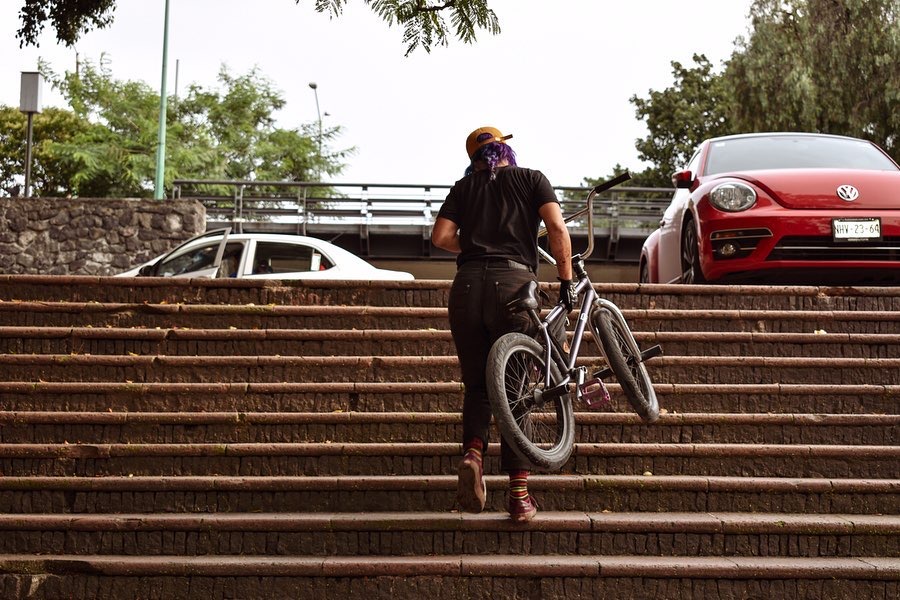 Being raised in Ecuador, what was the BMX scene like growing up and how were you introduced to it?
Conocí el BMX en el skate park de la Carolina, en "La pista" hice muchos amigos y la mayoría eran bikers, me gustaba mucho su energía, como eran, se divertían mucho, un día me prestaron una bici y comencé a aprender, me gusto, llegaba feliz a mi casa a contarles lo que había aprendido en la bici, mis abuelitos me vieron motivada en un deporte y me regalaron mi primera bici, fue algo que me ayudó mucho porque yo quería hacer algo pero nunca me sentí tan bien con otro deporte, me enseñó muchas cosas, valores, amistades, lugares.
I discovered BMX at a skate park in la Carolina " La Pista". I made many friends and most of them were bikers. I really liked their energy and how much they enjoyed it. One day they let me use a bike and I really liked it. I would come home super happy and excited to share what I had learned on a bike. My grandparents saw that I was super motivated in a sport and they gave me my first bike. It was something that really helped me because I wanted to do something but could never feel with any other sport. It taught me a lot, from values, friendships and taking me to many places.
If you were a BMX travel agent, where should we ride in Ecuador, foods we have to eat and 1 non-BMX related tourist attraction that is a must-see?
Yo pienso que podrían conocer la Costa del Ecuador tiene muchos bowls, En Manabí El Carmen, Portoviejo, Manta, Pedernales y En Quito están mis lugares favoritos La pista, es uno de los lugares más viejos, Pista 2026 y León Dormido son pistas de dirt con una energía única, llenos de mucho amor y hermandad.
I think you guys would like the Coast of Ecuador, it has many bowls. En Manibi el Carmen, Portoviejo, Manta, Pedernales, and in Quito, the Capital, are some of my favorites. La Pista. It is one of the oldest parks. Pista 2026, and Leon Dormido are dirt parks with a lot's of love, brotherhood, and incredible energy.
La comida típica el Encebollado! Es lo mejor. /The typical food is "Encebollada"! It's the best.
Pueden conocer Baños, es un lugar hermoso y con muchas cosas por hacer y conocer. /You guys could visit "Baños", it is a beautiful place with lots to do and see.
Cascadas, la casita del árbol, Caminatas. / Cascadas, "La Casita del Arbol" ( The little Treehouse ), and "Caminatas"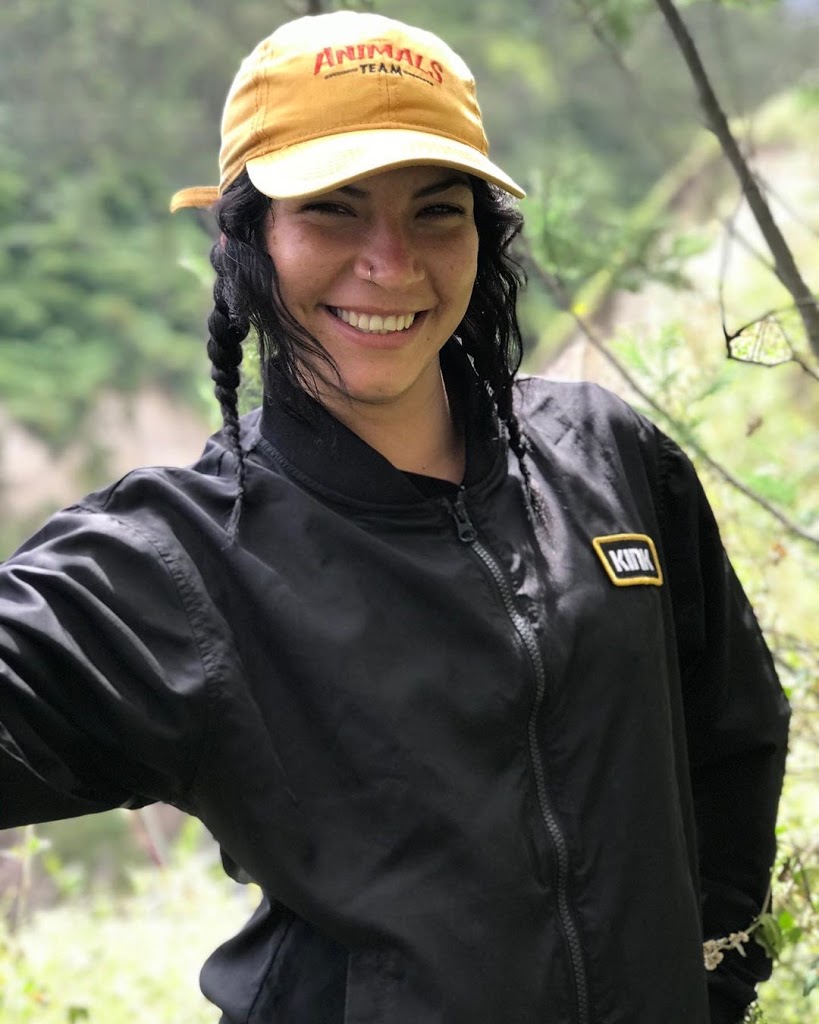 Photo by : @serene_ropesu
So what motivated you to compete professionally?
Lo que me motivo a competir profesionalmente fue la energía que se trasmite en toda esa locura, entre todos los amigos de todas partes del mundo, que se unen por una razón, que es montar bicicleta. Mas que ganar y el dinero o los premios, son los momentos que te dan y las cosas que puedes alcanzar si te lo propones.
What motivated me to compete professionally was the energy that is transmitted in this craziness, with all the friends from around the world that unite for one reason, which is riding bicycles. More than just winning, making money, the free stuff, it is the moments during it all, that are most important if you work for it.
Between the UCI and Vans Pro Cup, do you like competing in one over the other and why?
El Vans Pro Cup me parecer la mejor competencia a la que e podido ir, es muy divertida y las oportunidades, el espacio que nos da a las chicas me encanta, si pudiera ir a todas las paradas al año lo hiciera sin pensarlo. Todavía no e tenido la oportunidad de competir en algo de la UCI entonces, aún no tengo opinión..
The Vans Pro Cup is the best contest in my opinion that I've been able to go to. It is super fun, and I love that they give us girls the opportunity and the open space to ourselves to ride. If I could attend every stop in the series, I would do it without even thinking about it. I have yet had the opportunity to ride at any UCI event, so I can't really give my opinion.
Do you do anything special to keep in shape or is it just riding bikes every day?
Voy al Gym, salgo a pedalear y a trotar varias veces a la semana, trato de montar mucha bici y cuido mucho mi alimentación para estar fuerte. No saltarme comidas y comer sano.
I go to the gym, go out and pedal, and sometimes go running a few times throughout the week. I try to just ride my bike a lot and most importantly take care of my diet and selection of foods to stay strong. Never skip a good meal and basically do anything to stay healthy.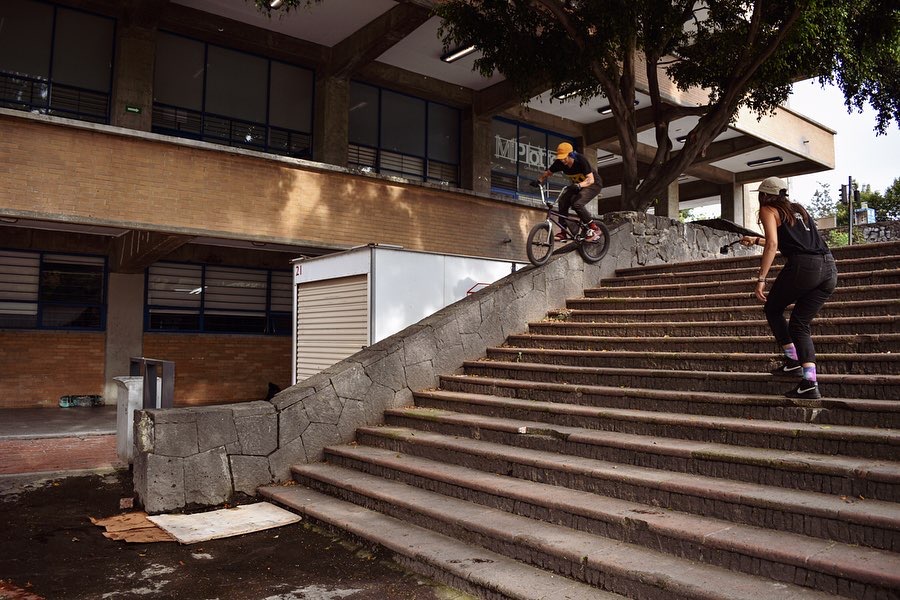 What music do you listen to when you're riding? (artist and song)
Me gusta todo tipo de música. Pero mi favorita por el momento es la salsa Talento de Tv de Willie Colon.
I love all different kinds of music. But my favorite at the moment is Salsa Talento by TV de Willie Colon.
Looks like you're getting support from the following companies, could you speak a little about each, how you were introduced and why you chose to represent them? 
KINK BMX es una marca increíble, antes de montar con ellos tenía un cuadro y volante Kink.. creo que ellos me conocieron cuando quedé en Podium en el Vans Pro Cup en Chile tenía una camiseta Kink era mi favorita, la guarde para montar con ella en las finales, quedé en 3er Lugar y en el podium salí con ella. Ese año me contactaron y en el 2019 entre al Team Flow, es la marca que más me a apoyado para crecer en el BMX, me encanta por todo lo que transmiten, el estilo de vida, los viajes, los amigos, su energía es el apoyo más grande que tengo y estoy muy feliz de pertenecer a su familia.
Kink BMX is an incredible company. Before riding for them, I already ran their frame and bars. I think they recognized me from the time I was on the podium at a Vans Pro Cup qualifier in Santiago, Chile. I was wearing one of my favorite Kink shirts that I had specifically saved for finals. I ended up finishing in 3rd place. That year they wrote to me and in 2019 I joined their flow team. It is the biggest brand that has helped me grow in BMX. I love everything they do and not just their brand, but their team, the trips, the friends, the way they live and love BMX. Their energy is the biggest support and motivation for me and I'm more than happy and thankful to be part of there family.
Malviviendo Crew es una loca idea que creamos con algunos amigos de varios países, no es exactamente un auspicio, nosotros hacemos ropa, la estampamos, la pintamos tie dye, etc y la vendemos para poder financiar nuestros viajes, nos apoyamos entre nosotros, llevamos esta ropa para vender en otros lugares y seguir viajando. Es una marca que está comenzando y esperamos darle más vida.
"Malviviendo Crew" is a crazy idea a few friends of mine all made from different countries. It isn't necessarily a sponsor, but we make our own clothing. We print and tie-die paint it all. We sell it on our own to help fund and support our travels. Honestly, we just made it for ourselves, we literally take our clothing on trips to continue traveling and help each other grow. It is a small brand that is just starting but we are hoping it continues to grow.
SweetKendamasEc es una marca que está comenzando en Ecuador, me da mucha motivación, porque es de las pocas marcas que apoya al bmx en Ecuador.
Sweet Kendamas is a brand that is starting in Ecuador, it gives me a lot of motivation because it is one of the few brands that supports BMX in Ecuador.
Where do you see yourself in 2020, what are your plans?
En el 2020 lo principal es que quiero conocer USA, en caso de tener algún problema con la visa espero ir a BCN y grabar algo por allá, Espero también asistir a varias paradas del Vans Pro Cup, ir a todas o la mayoría. Estoy muy emocionada por el 2020 siento que se vienen muchas cosas.
In 2020, first off I want to visit and travel to the USA. Incase I have trouble with visas I also plan to also travel to BCN to film something over there. I really hope to attend a few if not all of the Vans Pro Cup events. I am honestly super excited for 2020, I feel that many things are coming.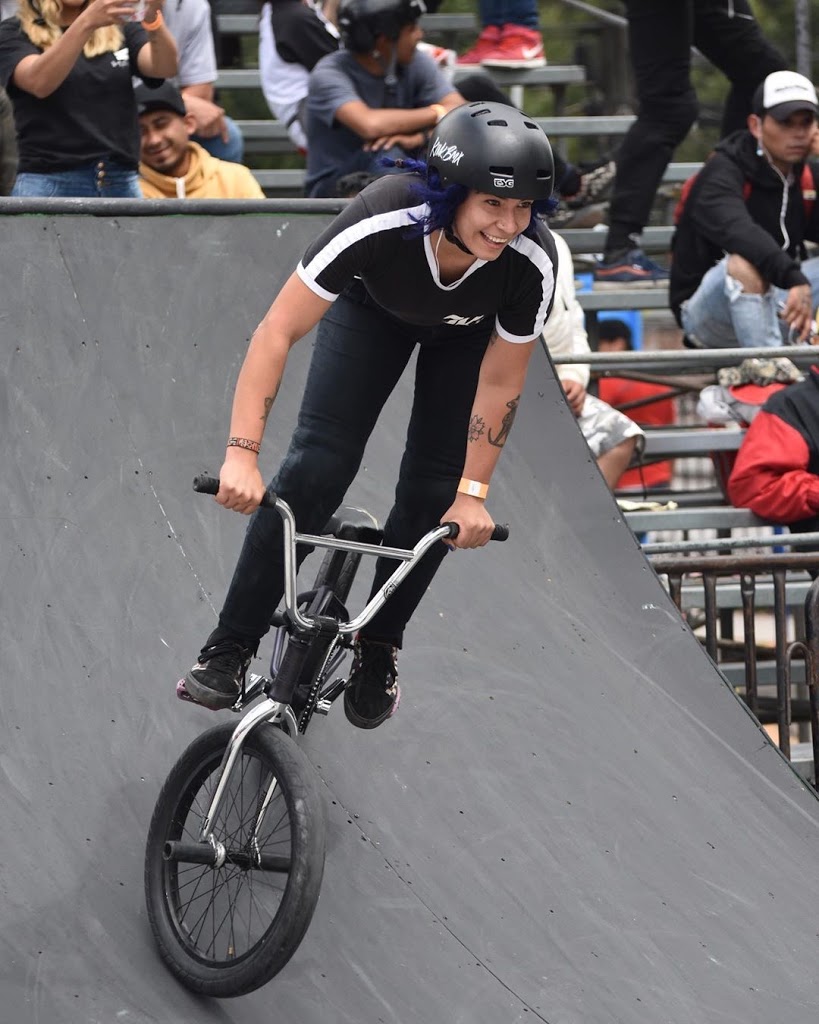 Photo by @haim_torres
Of all the tricks you learned, what has been the most frustrating to learn and assuming you know how to do it, could you walk us through the steps?
Yo creo que backflip, lo aprendí la anterior semana, me dio mucha frustración porque nosotros acá no tenemos parques para poder intentarlo, tampoco tenemos foampits, ni recibidores, ni parque de madera, el único foampit que había gigante y tenía miedo de aprender ahí, Lo aprendí en Brasil y lo seguí perfeccionando en los foampits que se cruzaban en el camino, un día me decidí intentarlo pero no tenía nada para darle, ni colchones, me decidí a darle a real de una fue algo muy loco.. lo intenté a real, no me salió me golpeé muy duro pasaron 10 meses, cambie de bici y en Mexico lo volví a hacer en foampit, hace un par de semanas lo volví a intentar igual a real no me salió y la anterior semana conseguí hacerlo.
Es muy increíble porque es un truco donde te golpeas mucho si no vas decidida, e visto que todos aprenden del foampit a recibidor y después a real, yo lo intente directo a real y lo pude hacer.
I think that would be backflips, which I learned just the previous week. It gave me a lot of frustration because where I live we don't have proper parks to really try them at. We don't have foam pits to practice them safely, nor wooden parks or even proper landings. The only foam pit I rode was awhile ago and was still afraid to try it then. One day I decided to just try it. I had nothing, no mattress or foam, paddings, etc. I decided to just send it. I tried one and got hurt super bad. 10 months passed, I changed my bike and in Mexico City, we got to ride a foam pit and I worked on it some more until I tried it again on a real set up and fell again. Last week I finally did one. It is incredible because it is a trick that can hurt you if you aren't super committed. I've seen a lot of people learn them in foam pit's then take it to a resi,  then finally a jump. I did what I could with what I had and tried them on a real set up and finally could.
You've been to so many places around the world to ride your bike, could you list your favorite and least favorite parks in the world and why?
Pondré desde los favoritos a los menos favoritos:
– Skate park de Ruben Alcántara de Malaga – España es el mejor bowl del universo.
– Bowl Dirt Park en Los Andes – Chile un bowl de tierra perfecto.
– Santuario Dirt Park en Villa Alemana – Chile está ahí es la "casita 420 " puedes entrenar de todo y viven muchos bikers amigos increíbles.
– Embalse Dirt Park , Embalse – Argentina tiene muchos Dirts de todos los tamaños, por todos lados y es rodeado de naturaleza
– Manifiesto Dirt Park, río tercero Argentina, muchos Dirts y buena energía para aprender
– Caracas Trails, Brasil los Dirts más gigantes que e visto, son muy antiguos,
– Bowl de Ciudad del Río Medellín – Colombia es un bowl pequeño pero divertido.
– Pista de skate SBC – São Paulo, Brasil es muy grande y loco
– Las Hilamas –  Leon – Guanajuato, Mexico divertido con todo para aprender, pero es peligroso ir.
– Castilla- Medellín Antioquia, tiene muchos choques.
– Skate park los reyes, Santiago de Chile, No me gusta su forma
– San Cosme, CDMX – Mexico muy resbaloso.
I will put from favorites to least favorites:
-SkatePark de Ruben Alcantara in Malaga, Spain. The best bowl in the universe.
-Bowl Dirt park in Los Andes en Chile. It is an incredible bowl made of dirt.
-Santurario Dirt Park in Villa Alamenia. Chile is there in the 420 House. You could go there and it's full of other rad bikers and incredible friends.
-Embalse Dirt Park, Emblalse, Argentina. It had lot's of dirt jumps of many sizes that go every direction and is surrounded by nature.
-Manifesto Dirt Park in Rio Tercero, Argentina. Another park with lots of dirt jumps that is full of good energy to help with learning.
-Caracas Trails in Sao Paolo, Brazil are some of the biggest dirt jumps I have ever seen. They have been around for a long time.
-Bowl de Cuidad del Rio de Medellin, Colombia. A super tiny but fun bowl.
-Pistas de Skate SBC – Sao Paolo, Brazil. Brazil is super big and crazy.
-Las Hilamas in Leon Guanajuato, Mexico. A super fun spot to go to and ride but it pretty dangerous too.
-Castilla, Medellin Antioquia has lot's of holes.
-Skatepark los Reyes, in Santiago, Chile. Big, but I don't like the lines.
-San Cosme skate park in Mexico City, it is too slippery.