Support Your Park Part 5: B-LINE Indoor Bike Park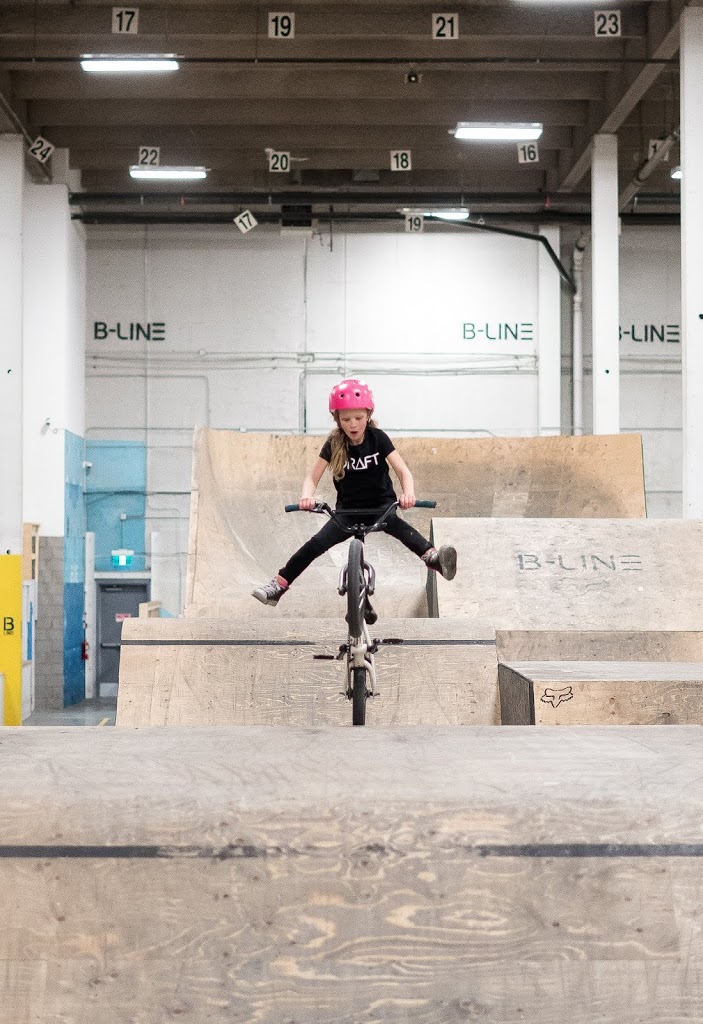 There have been so many changes to our day to day lives since Covid-19 hit North America. From the changing group numbers, countless recreational facilities being closed and even our borders between Canada and the USA being shut down, it's hard to keep up. All of our businesses are hurting and as we attempt to flatten the curve while moving into more mild weather,  it's important to remember that in our community, our indoor bike parks are taking a huge beating right now. Even once we're fine to come out from hiding, the parks that we turn to during the winter months, typically struggle into the summer even without an outbreak.
In support of the parks that give us sanity during the cold winter months, I reached out to several park owners and asked how they were doing during these unexpected closures. I don't believe people realize how much this is hurting our indoor parks, considering this is the time they're looking to bank as much as possible before numbers dip in the summer. I also wanted to outline ways you can help your local park, may that be buying a pass online to use in the future, or maybe buying products that they have in stock.
Today I'm introducing to you Part 5: B-LINE Indoor Bike Park, but follow this link for when all the interviews come out.  #SupportYourPark
401 33 St NE #6, Calgary, AB T2A 7R3, Canada
Represented by Owner Ryan Greenberg
Support: By showing up when they're open!
How did B-LINE Indoor Bike Park come to be, its history, significance, etc?
B-Line: The short story is that I got an idea, researched it, and ran with it. We opened in October of 2017 and we hit the ground running. The Calgary biking community has been fantastic and super supportive. We are a family run business that caters to all levels of riders from kids on run bikes, to world-class professionals. We strive to give everyone a positive and fun experience at B-LINE.
With the changing landscape, you eventually had to shut down the park due to the new guidelines. As an owner, what's going through your mind right now and how is your team?
B-Line: I think everyone is still 'in shock' over this whole Covid-19 Crisis. It was not an easy decision to close down that park. We'll have to lay off most of our staff, although some are currently still working for the next week or so. We're taking the situation day by day and trying to follow the guidelines set out by various health organizations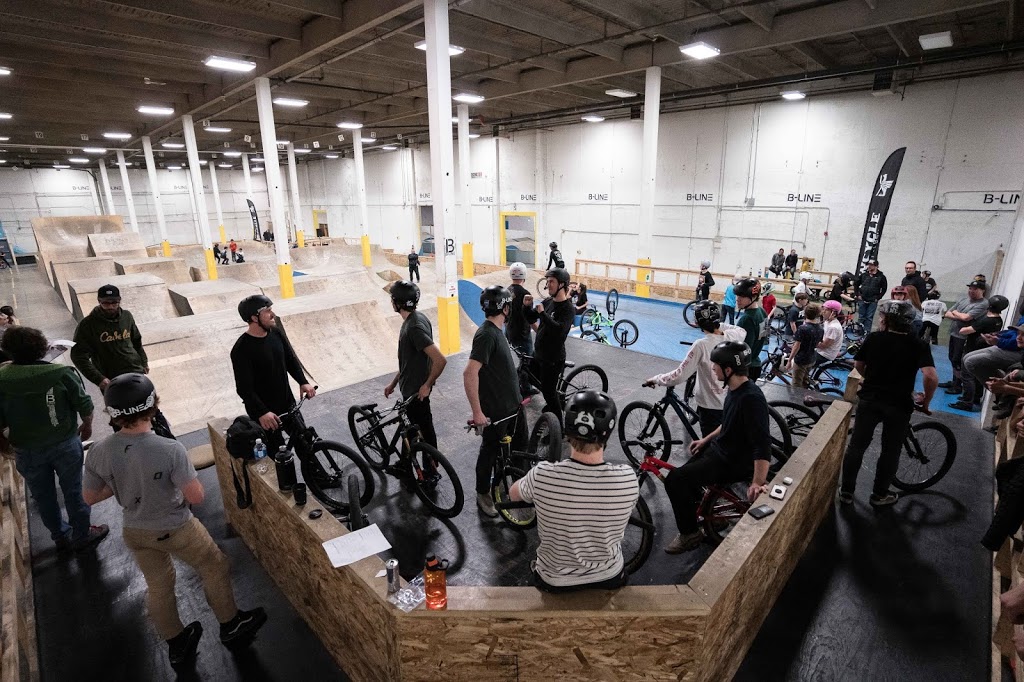 Financially, this must be a huge hit for you. In a normal year when there isn't a pandemic, I assume this is like, crunch time right? You're probably looking to bank as much as possible before attendance declines in the summer. If you can share any facts or figures, please paint us a picture to illustrate the severity of the situation – or maybe you're doing ok?
B-Line: It wasn't in our business plan to close in March and refund 1000's of dollars in deposits for birthdays, clubs and camps. We're losing big time at what is normally our busiest time of the year. March and April were full of birthday parties and our April clubs were at 100% capacity. It seems unlikely that we'll be able to open at the end of March so our April programs will likely get canceled. Many birthday parties have opted to postpone instead of asking for a refund which is helpful and appreciated.
Currently is there any support from the government as a small business owner, maybe within your city or even your landlord?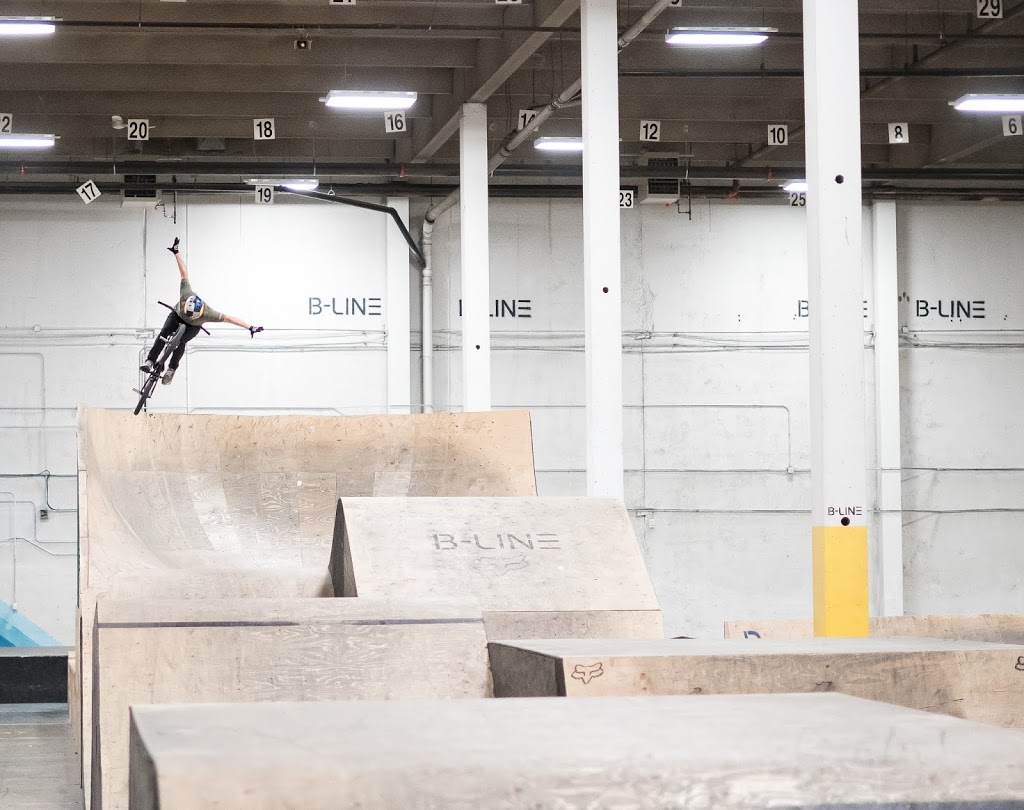 B-Line: I'm not sure what government support will be available for B-LINE; loans don't really help if they just add debt. We'll be working together with our landlord to try and ensure the survival of B-LINE. (that's the plan)
How can we support you right now?
B-Line: Supporting us when we open again is probably the best way to help…. especially if we open in nice weather. We've had a few members ask us to continue their memberships and collecting their dues, and that is very much appreciated.
Please support your park by sharing this article, and buy a gift card if you can. Shred when they open, even if it's warm out. #SupportYourPark ♥