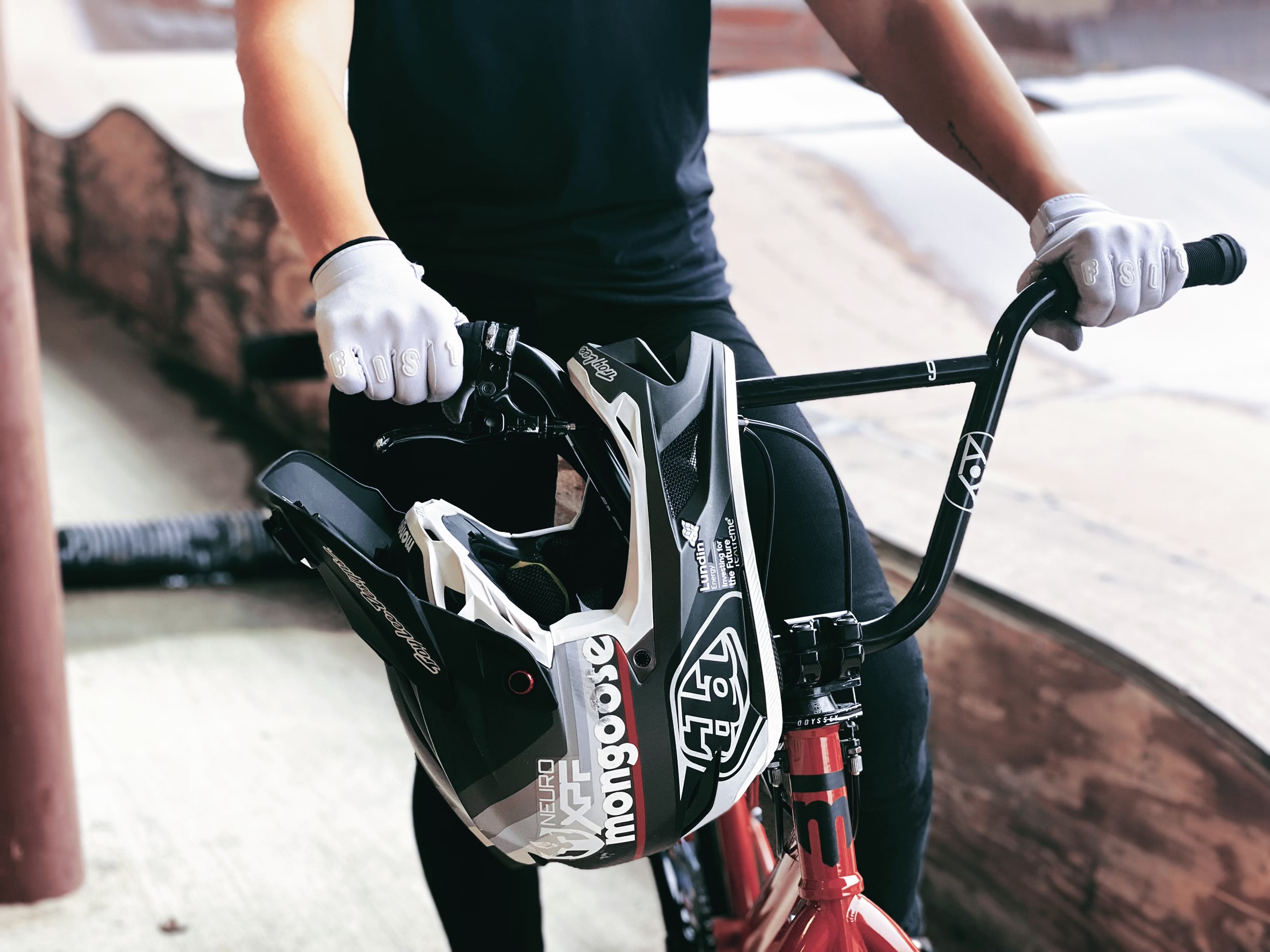 Nikita Ducarroz is no stranger to the bumps and bruises that comes with BMX, so we wanted to know what she wears from head to toe. Check out her safety check below, we included some specs and her feedback on each product.
"For someone that wears a fullface 24/7 comfort and weight are super important. This new model from TLD is insane light and really doesn't make wearing a fullface in the NC humidity too bad." – Nikita
From Troy Lee Designs: The Daytona, D2 and D3 series of helmets redefined the marriage between technology, safety, and artistic design. The new Troy Lee Designs D4 is changing the game again. Using TeXtreme® Spread Tow carbon fiber reinforcements in the shell of the new TLD D4 Carbon helmet has helped pare down the weight of the full-face helmet by almost 50 grams without sacrificing strength. Despite the loss in weight, we were able to strategically add EPS to increase strength and durability. Integrated MIPS Brain Protection System designed to reduce rotational motion transferred to the brain from angled impacts to the head. The new TLD D4's package is rounded out with lightweight titanium D-rings, collarbone suspension system and quick release XT2 3D cheek pads and X-Static washable liner.
SPECIFICATIONS
MIPS C2 brain protection system-protects against rotational impacts
TeXtreme® Spread Tow carbon fiber shell
3 Shell sizes and 3 EPS sizes, 6 total size ranges from XS-XXL
24 total vents: 10 front intake ports, 5 overhead intake vents that channel air on top of your head and an industry leading 7 rear exhaust ports
Anti-Microbial/Quick Dry XT2® Quick release contoured 3D cheek pads create an anatomically optimized fit. Separately placed X-Static® & XT2® precision fit headliner with 7 anchor points gives you optimal fit
EPP Collarbone impact system; a relief area that reduces the forces in the center lower section of the helmet where shoulder/collarbone impacts have been known to occur
Lightest Carbon DH/BMX Race helmet we have ever built at 1000g (+/- 50gm and Size M)
Titanium D-Ring fasteners
3-year warranty
CPSC 1203*, CE EN1078*, ASTM F1952-DH, ASTM 2032-BMX. *Varies by regional standards
"I like gloves that are lower profile so these ones work great. They also have so many fun designs so if you like matching outfits you'll like these haha." – Nikita
From Fist: The connection between you and your bars, there is nothing more important than feel. Sublimated four-way stretch twill spandex upper paired with a single layer Clarino palm make for the best fit on the market. Less is more with this Minimalistic multiple use glove. Taking that all-important Insta pic or punching out a quick text has never been easier on the track or trails with conductive thread in the index finger and thumb make sure you #FISTARMY to share with your people.
Tech:
Minimalistic lightweight design for maximum performance and feel
Sublimated 4-way stretch twill spandex upper featuring full breathability and supreme comfort
Single Layer Clarino* palm for maximum feel and control
Spandex finger gussets for ultimate flexibility and dexterity
Touch Screen conductive index finger and thumb
Custom FIST closure offers a broad range of adjustment to keep your gloves secured just how you like them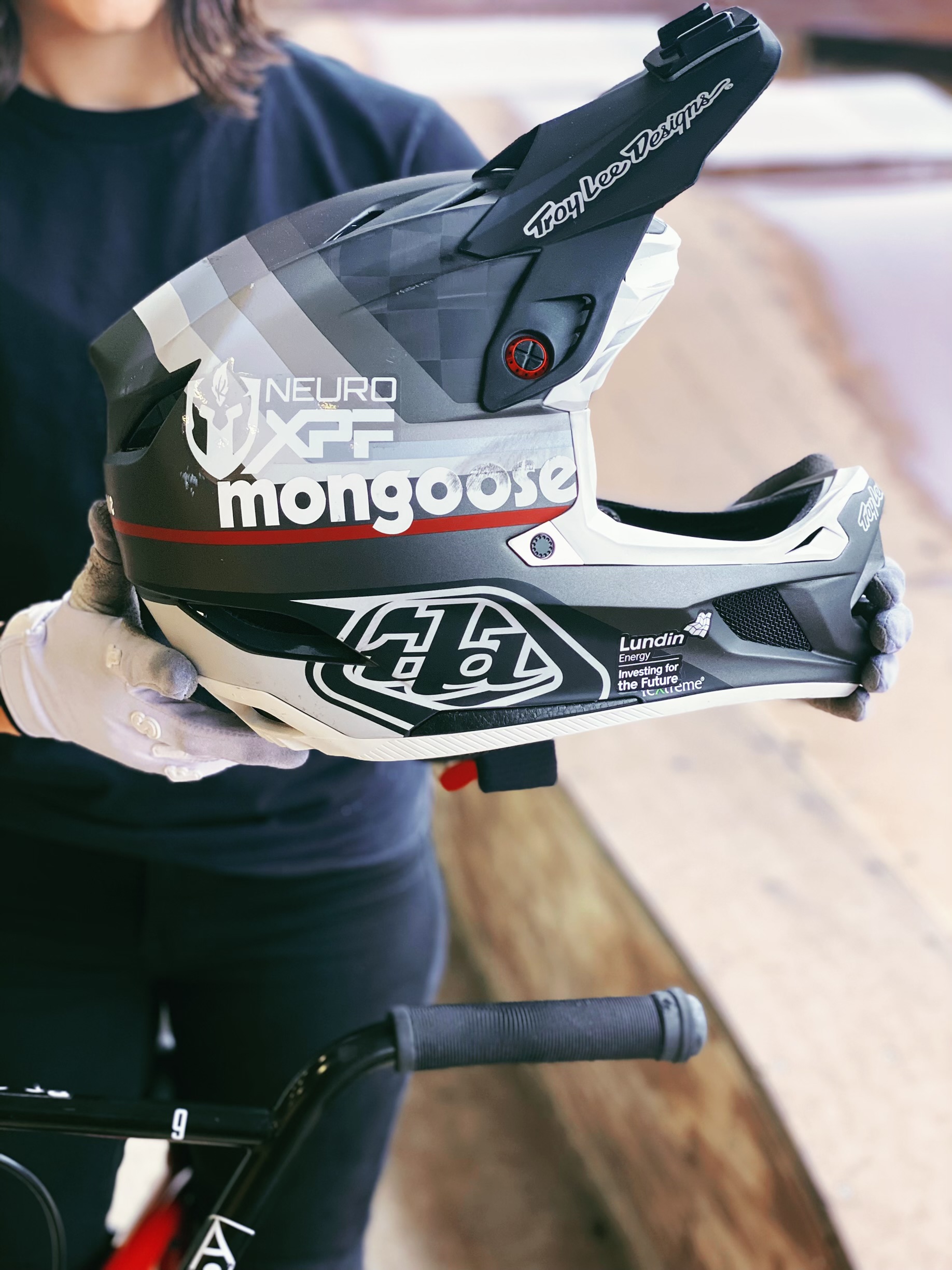 "My favorite knee pads to date. The Omega model is their slim version, and it has that low-profile vibe while still keeping some important specs like the inner shin "tailwhip" pad. It's like the perfect compromise of low profile and the protection I want." – Nikita
From FUSE: The Omega Knee Pad uses a light weight breathable Lycra and "Dry Fit" mesh back section with an internal soft air plush lining to keep the pad well ventilated, and compression Lycra with Kenesio™ bands and multiple Sharkskin neoprene grippers to keep the pad firmly in place without the needs for straps. To protect your knee from impact we use a brand new 30% lighter SAS-TEC insert to give you ultimate levels of protection without sacrificing maneuverability.
Pad Material: Kevlar front section with breathable perforated compression Lycra and "dry-fit" mesh on the rear.
Protection: SAS-TEC lightweight inserts with extreme impact absorption properties.
Features:
Incredibly light weight and extremely breathable design for uncompromising performance
Super light SAS-TEC insert
Reinforced, super tough design for longevity
Compression technology, with printed Kenesio™ bands to combat fatigue and muscle failure
Sharkskin gripper on the top, bottom, and the inside to hold the pad in place and prevent slip
Ethika Leggings  – Under the pads to avoid chaffing.
"I use either the cotton ones or the more "yoga pants" material ones. Either way it makes changing easier but also helps with the sweat and not getting crazy pad rashes." – Nikita
Product Features
**Sizing Runs a Little Small**
Comfortable Relaxed Fit
Full Length Tapered Leg
Ultra Soft Fabric
High-Quality Jacquard Waistband
90% Polyester 10% Spandex
"I use their generic ones, but they just released some in their Omega line which I'm excited to try, Vans shoes – Gilbert Crockett are my favorite model for riding, not too bulky but still a good level of padding all around." – Nikita
From FUSE: The Omega ankle protector uses a two-way neoprene with air plush lining for comfort. To protect your ankles from impact we use EVA foam padding and polyamide hard shields. For protection of the achilles tendon there is high and wider padding to cover the most surface.
Pad Material: Two-way stretch neoprene
Protection: EVA foam padding under polyamide hard shield
Features:
High and wider impact padding on both side
Achilles tendon padding
Rear puller for easy fitting
 Sold as pair